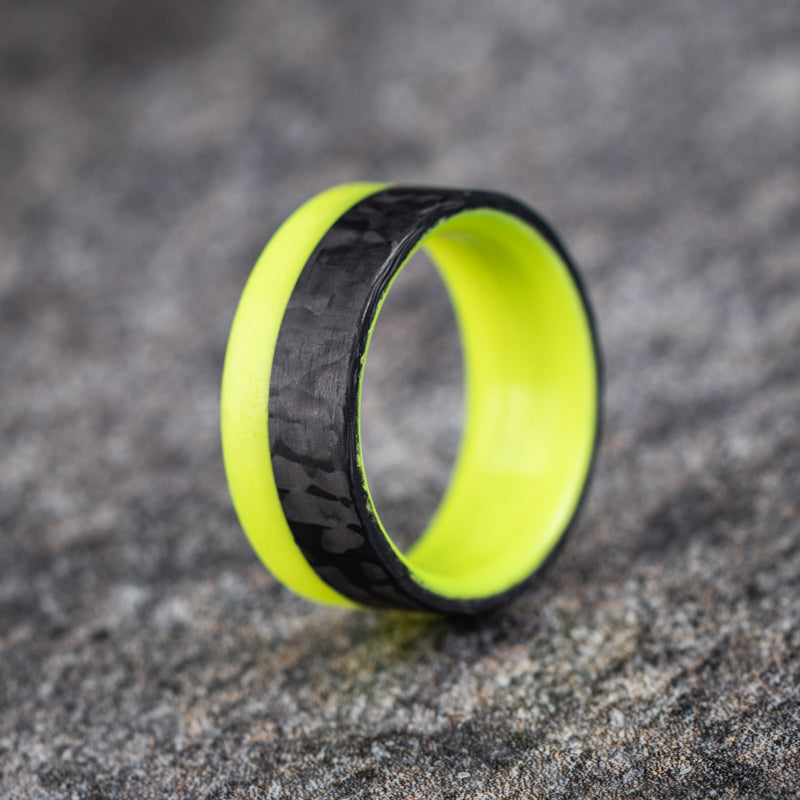 Polished 2/3 Carbon Fiber Marbled Ring with Yellow Glow Resin
Description
Find Your Ring Size
Carbon fiber ring with matte finish
Made of strong, shatter-resistant carbon fiber (2,457 kN.m/kg)
Carbon fiber with a marble finish comprises ⅔ of this sturdy ring's exterior
Yellow glow polymer lines the inside and ⅓ of the outside
Hypoallergenic ring for sensitive skin that won't stain your fingers
Corrosion resistant ring
Made to comfort fit
Available in quarter sizes ranging from 4-12.5 (US)
Ring width can be customized, between 7-15mm
Made in the USA
The E6 Yellow Marbled Two Thirds Carbon Fiber Glow Ring is an affordable, non-traditional, lightweight ring. It's marked with a unique marble pattern on black carbon fiber complemented with a splash of yellow glow-in-the-dark material.
E6 handcrafts every non-traditional ring with beveled interior edges, and we guarantee a comfortable fit. Our lifetime warranty ensures this ring will not crack or chip under normal usage, guaranteed.
Don't know what size you need?