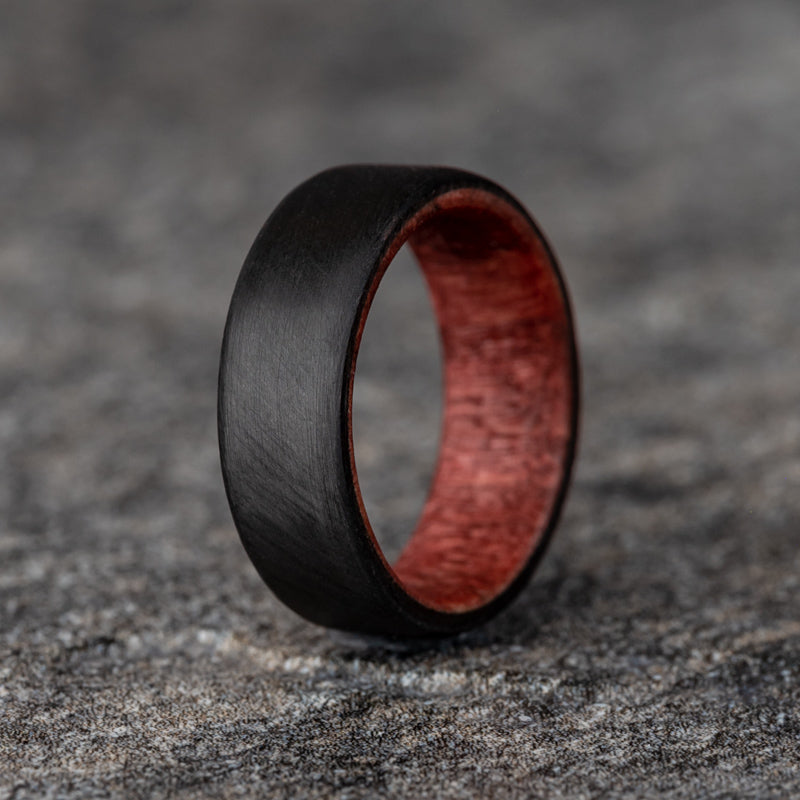 Carbon Fiber Unidirectional Ring with Sedona Red Wood Core
Description
Find Your Ring Size
Durable and lightweight Sedona Red Wood and unidirectional carbon fiber ring
Available in quarter sizes ranging from 5-14 (US)
Ring width can be customized, between 5-10mm
Always made to comfort fit
Hypoallergenic ring, great for sensitive skin
Not intended to be immersed in water, not corrosion resistant
Makes a great affordable wedding ring option
Handmade, made in the USA
This lightweight wedding ring features a wooden core and a rough-cut carbon fiber exterior. Made with Sedona redwood, this ring declares rugged sophistication, making it a stylish, affordable wedding ring. Your unique wedding ring will be custom-made to your specifications, in quarter-sizes ranging from 5-14 (US) and widths of 5-10 mm. Each E6 ring is hand-made in the USA.

Rings crafted with wood are not waterproof. Use caution, and do not expose this ring to water for long periods of time. Normal daily wear and hand washing will not compromise the ring's quality. Thoroughly dry the ring if exposed to water. Not recommended for long water immersion, such as swimming or washing dishes. "
Don't know what size you need?